DOWNTOWN — Chicago's peak tourism season has come and gone, but local tour guide Hillary Marzec still wants to take you inside some of the Loop's most stunning buildings.
Marzec runs her tour business, Inside Chicago Walking Tours, out of a Rogers Park office and calls herself a Downtown "architecture nerd."
For years, Marzec gave architecture tours via river boat but branched out on her own to "help people see the details up close," she said.
Inside Chicago Walking Tours offers $35 tickets throughout the winter and pay homage to the lesser-known buildings of the Loop, which people may pass over en route to "the big hitters" like the Sears Tower and Chicago Cultural Center, Marzec said.
"The best type of cold-weather tour is a walking one, because we can always go inside," Marzec said. "When we bring people to lobbies, we always give them some breathing space first, just so they can experience it as an art."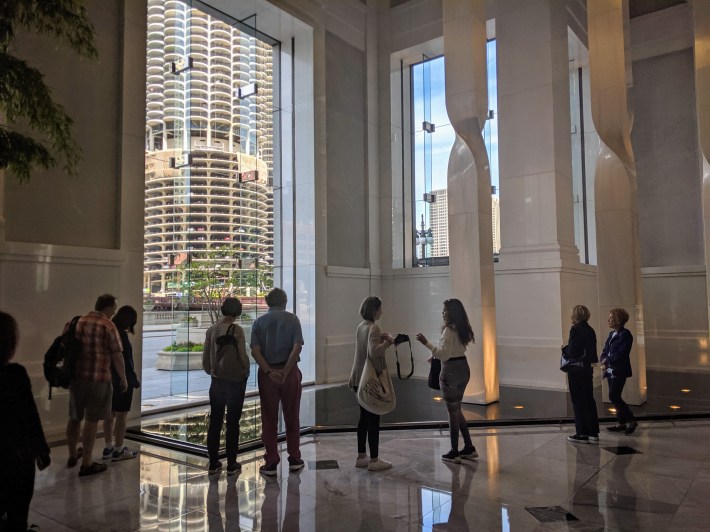 One of Marzec's favorite buildings to show people is at 311 S. Wacker Drive across the street from the Sears Tower.
The building "looks like a birthday cake on top because of its big drum of lights," she said. But its most dazzling element might be the sunken lobby, "an oasis that lets you escape the bustle of Wacker Drive," Marzec said.
The mosaic by famed artist Roger Brown at 120 N. LaSalle St. is another highlight, which tells the tale of Icarus and Daedalus and the perils of ambition, Marzec said. A segment of the mosaic is a blank column, meant to reflect the building across the street — none other than City Hall, Marzec said.
"Just from any one building, there's just so much you can pull apart and teach people about, which is generally not offered in most run-of-the-mill big box tour experiences," Marzec said. "What connects the architecture of the Loop, from the known to the lesser known, is the quality of the design, the intentionality of the design. It's like cruising through a fine art museum."
Marzec also offers virtual tours for groups and corporations. She hopes to bring back the part-boat, part-walking "Surf & Turf" tours once the weather warms up.
For Chicagoans trying to get their friends and relatives to come to town during the holidays, Marzec also offers gift cards.
"People in the summer ask me all the time, 'How do you get through the winter here?'" Marzec said. "We wear hats and get back to work."