Skate inside Wrigley Field this holiday season
Written by 
Jeffy Mai
The holiday season is right around the corner and this year, Chicagoans have the rare opportunity to step onto Wrigley Field.
Winterland at Gallagher Way, the annual festive experience that takes place outside the home of the Cubs, is expanding into the ballpark for the first time this year. Starting Friday, November 18 and running through Sunday, January 8, 2023, visitors will be able to celebrate the season with a host of programs and activities. Popular winter attraction Christkindlmarket Wrigleyville returns as one of the headliners and will offer hand-crafted ornaments and unique holiday merchandise plus a taste of traditional German fare and hot spiced wine.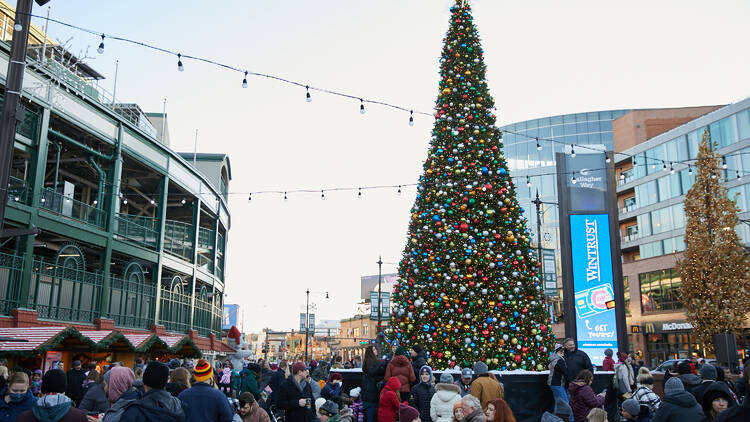 While Winterland's ice skating has customarily happened next to the stadium, the festivities are moving onto the field in 2022. Attendees will be able to make their way through a special gate filled with holiday decor before arriving at an expanded 12,000-square-foot ice rink. The whimsical wonderland will also feature a carousel, carnival rides and games, an ice slide and an Infield Express train. And if you need to warm up, there's a new ski lodge-themed dining option—aptly named The Lodge—that will provide creative beverage offerings as well as fire pits.
Those who want to commemorate the occasion can take professional family photos with Santa in his workshop, located in the lobby near the Wrigley Field Marquee. It will be open every Friday, Saturday and Sunday from November 25 to December 18. Large groups can rent private on-field chalets, which are designed to accommodate up to 20 guests. They include a hot chocolate bar, snacks, attraction tickets and upgradeable food and drink packages. Reservations are available here.
Admission to Winterland at Gallagher Way is free, but tickets are required for access to the Wrigley Field activities. Tickets start at $5 and can be purchased online. Parking is available in the Toyota Camry Lot at 1126 W Grace St for $10 Monday through Thursday, and $15 Friday through Sunday. Winterland's hours of operation are from 3-9pm Monday through Thursday, 11am-10pm on Saturday and 11am-7pm on Sunday. Thanksgiving and Christmas Eve hours will be 11am-4pm, while the hours on December 26-29 will be 11am-7pm. The event is closed on Christmas Day. For a full list of activities and events, visit Gallagher Way's website.