The best places to see cherry blossoms around Chicago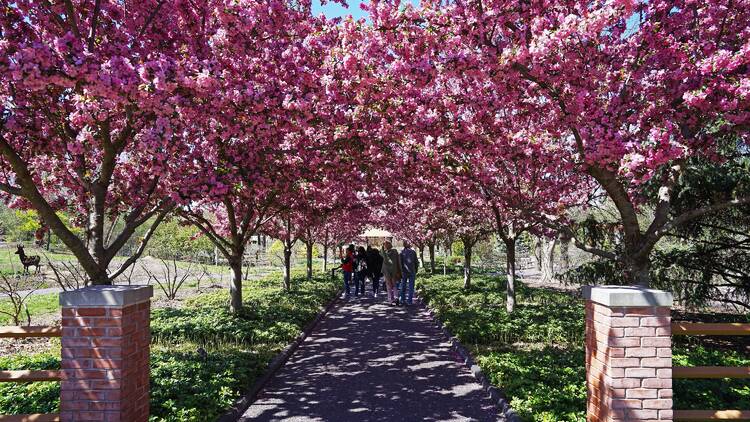 The best places to see cherry blossoms around Chicago
Make the most of cherry blossom season's ephemeral beauty at these prime viewing locations in Chicago and beyond.
Cherry blossom season is a springtime rite of passage in Japan. Each year, both locals and tourists alike pour into city parks to post up with picnic blankets and admire the pale pink flowers—a tradition called hanami, or flower viewing—before they fall to the ground after just a few short days. Here in the U.S., Washington, D.C. is the most well-known destination for cherry blossom viewing (it was famously gifted more than 3,000 cherry trees by Japan in 1912), but you'll still find plenty of good spots for gazing at gorgeous spring blooms in and around Chicago. Jostle with crowds at one of the most beautiful gardens in Chicago, take a train to the suburbs or pack your bags for a flower-powered day trip from Chicago. Just make sure to plan your visit carefully, because you only have a few days to soak it all in once the blooms hit their peak! Here are some of the best places to see cherry blossoms in Chicago.
When do cherry blossoms bloom in Chicago?
Cherry blossoms hit their peak anywhere from late March to early May, depending on weather conditions.
How long do cherry blossoms last in Chicago?
Once the flowers hit peak bloom, they typically last anywhere from three to eight days before shedding their petals.
The best places to see cherry blossoms near Chicago
Jackson Park
Take in views of Yoshino, Gooseberry, Snow Goose, Snow Fountains and Accolade blooms just south of the Museum of Science and Industry along Jackson Park's Columbia Basin, an area home to more than 160 cherry blossom trees. The pink and white trees—which were planted beginning in 2013 to commemorate the 120th anniversary of the World's Columbian Exhibition—draw thousands of visitors to the park each year, but don't let the crowds scare you off: You won't find a better place in Chicago to have a true hanami experience. If you're especially enthusiastic, you can even pick up cherry blossom-themed merch from the Chicago Park District's website.